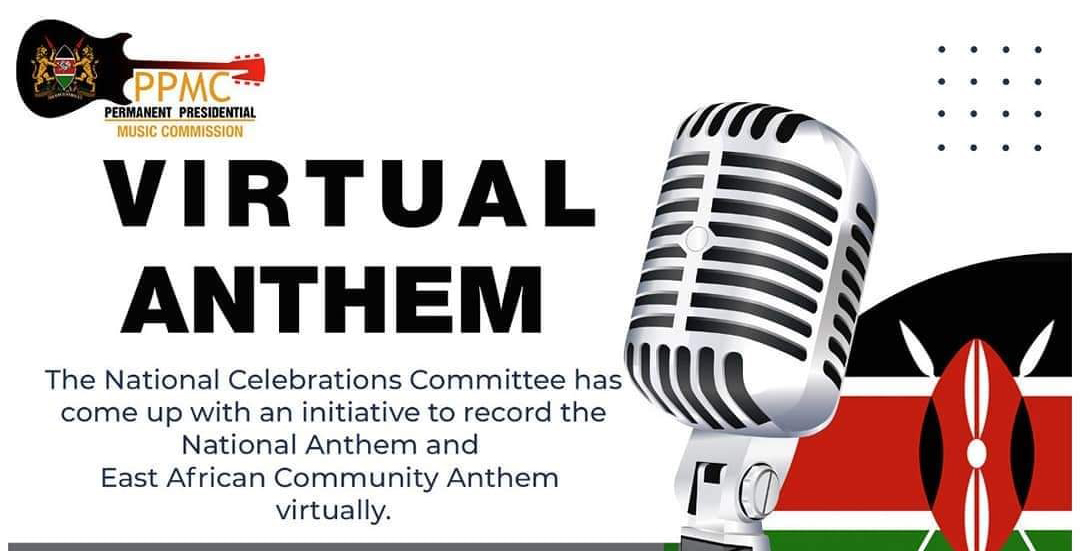 Virtual Recording of the National Anthem & East African Community Anthem
The National Celebrations Committee has come up with an initiative to record the National Anthem and East African Community Anthem virtually.
The target is to have all Kenyan Musicians around the globe participate in this patriotic exercise as a way of promoting our nationhood and regional integration.
The Virtual recording will be aired during the forthcoming Mashujaa Day celebrations on 20th October, 2020, a day set aside to remember and celebrate our Kenyan heroes and heroines.
A guide track for individual voices (attached) has been prepared to aid in the rehearsal and recording of the two anthems.
REQUIREMENTS
1. Playback device
2. Recording device e.g. Smartphone, computer webcam or camcorder with a good Camera resolution.
3. Headphones for use during recording to minimize background sounds
PROCEDURE FOR INSTRUMENTALISTS
1. Learn /rehearse your part as per the guide track and sheet music provided.
2. When ready for recording, Ensure that :
– You are decent and in a quiet, well-lit space. Make sure to capture you and your full instrument in the frame of your recording device.
– maintaining proper posture, use the following guidelines:
Upper strings: Record at a 45 degree angle, with the camera approximately 2 feet away on the 'down bow' (Right hand) side of your instrument.
Lower strings; 45 degree angle with the camera 2 or three feet away on the 'up bow' side of your instrument.
Woodwinds: place your camera two or three feet away, capturing your embouchure and the full key range of your instrument.
Brass: Place your camera 2 or 3 feet away, capturing your embouchure and your instrument's valves. Do not record directly down the bell of your instrument.
– You play along with the guide track, listening on one device using headphones while recording on a second device.
– Check that you are happy with your notes, rhythm and intonation, and record a second time if necessary. Upload the recorded clip to the email/WhatsApp number provided below with your details as follows:
. Full name,
. Instrument
. Name of the group you belong to if any.
. Your location
Whatsapp number 0773282800 email address
anthemsubmission@ppmc.go.ke
Trackbacks and pingbacks
No trackback or pingback available for this article.